After last week's debacle in London and another loss—this time to the Minnesota Vikings, the Pittsburgh Steelers certainly aren't looking like the 6-time Super Bowl winners of days gone by. Are the Steelers just that bad or is there something else going on?
Don't Compare Apples to Oranges
The Steelers team that won the first four Super Bowl titles is not the same team we have today. Even the team that won our last two Super Bowls titles against Seattle and Arizona is not the team we have today.
It irks me a bit when people compare how the Rooney Empire must be embarrassed, horrified and angry this 2013 team sucks. Even Big Ben has said the Steelers are "The worst team in the league." Sad really. We are not a sad team, we are a team in transition. Remember how long it took for San Francisco or the Saints to be great again?
Still, forget those old championship teams my fellow fans and start concentrating on this team. What should we expect from them?
Ben Has No Protection
We lost a lot of old players this year and The Nation already knew Ben's offensive line was bad before the regular season even started so the number of sacks he's endured—not his fault. He still gets out of the pocket and can mess with the defense when he wants to—but he can't do it all alone.
I think the entrance of offensive coordinator Todd Haley was to:
Get Ben more protection.
Get Ben to get rid of the ball faster and concentrate on short "California-style" throws.
As far as number one: Our offensive line isn't strong and if it's not strong, it can't protect Ben so apparently these guys didn't get Todd Haley's memo.
When it comes to number two: Ben is Ben and it's hard to change his style of play. Peyton Manning will always throw the long passes—so will Tom Brady. Ben is good at those too but not when he has no protection or is on his back after a sack. And, if the wide receivers are looking for glory and praise, they need to again—reread the memo and be thankful for short pass receptions.
Don't Give Me Those 1968 Stats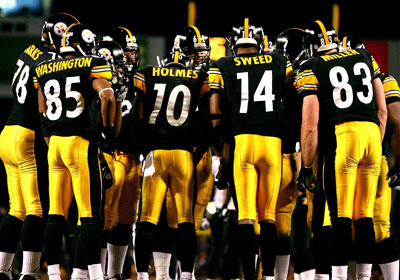 If I hear one more sportscaster say the Steelers haven't been 0-4 since 1968 I shall throw something at my television. That's nice guys—really make them feel good—again, comparing apples to oranges.
Comparing players from one era to the next is simply not prudent. I mean take Joe Montana—best QB ever in my opinion but no one is comparing him to Colin Kaepernick right—good thing too!
I'm happy to see Terry Bradshaw talk about Nutri-System and it's okay for Joe Montana to sell me joint juice—they are nearing their golden years and while we will always worship them, they are not the players of today, nor are the rules the same.
The Rules Have Changed but Fear Is a Big Factor
Over the years NFL Commissioner "King" Roger Goodell (and others) have implemented new rules to ensure players are safe. No more of this:
Lynn Swann – "Whew, what day is it?" After a shot to the head.
Coach – "Do You know what year it is?" Or, "What's your momma's name?"
Lynn – "It's 1979 right?" and "Why you're my Momma! Hi Momma!"
Coach – "Get back in there, you're good to go."
Now players can't employ the same aggressiveness, tackles have restrictions, concussions are a big problem (and they should be) and even though players wear all those pads and a helmet, there's the new helmet to helmet rule that some refs catch but most ignore.
This "generation" of players is different as far as life goals. They don't want their bodies to look like Joe Namath's! They don't want Montana's joint juice! They don't want brain damage to the point suicide seems like a good option!
They have families and wives and girlfriends. They have stuff to do and people to meet and goals for their future after football. They "fear" the tough, career ending injury and some that are injured in a scary way but then healed, never play the same again.
Accept the New Generation
As the Steelers transition, the fans of Pittsburgh need to do two things:
Realize your heroes of the last two Super Bowl wins are old and tired.
Realize the new generation doesn't want to practice or listen to coaches. They'd rather get tweets on new plays than read a playbook. They want to share their new clothing line on Facebook. They make so much more money than players did in the old days; they're thinking of ways to build a business, restaurant or invest in something. They also have to handle all their needy family members who want their money. They also don't want five day work weeks—three is more like it with tons of breaks. They want to listen to their iPods and be carefree. They are invincible but also unrealistic. They are talented but naïve.
What Will You Do?
We can post how sad we are that the Steelers are 0-4 so far in 2013. We can cry or complain or start cheering for the Pirates who are in the playoffs—or the NHL is now in preseason so start cheering for the Penguins.
I say just let the coaches figure it all out—part of that problem may be our coaching staff also doesn't understand these talented yet naïve players either.
If you do remember the Bradshaw, Swan, Lambert, Harris, Ham and Mike Webster days—it's time to let go. If you are younger and think the Steelers of today are same team that conquered Arizona and Seattle—it's time to let go.
The Steelers of today are more the team that lost the Super Bowl to the Green Bay Packers.
I'm just saying….